Thyson reaches 100,000 man hours on a key customer site
March 2, 2021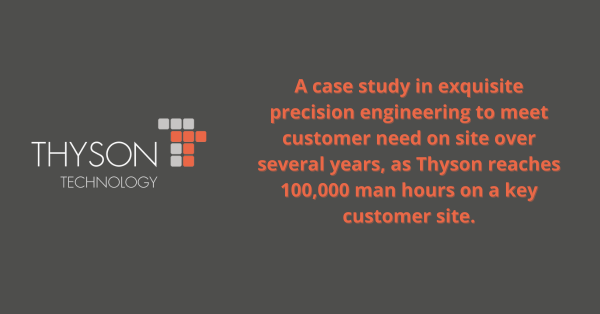 A case study in exquisite precision engineering to meet customer need on site over several years, as Thyson reaches 100,000 man hours on a key customer site.
Our team has been working on our customer site for a number of years. The customer is a world class ethylene producer who has provided the following feedback:
"I believe we can all testify to the exemplary SSHE behaviour and quality of work of your team. This recognizing the often difficult and rapidly changing circumstances the team had and still has to work under. Your team has demonstrated flexibility and resilience to overcome these issues, especially the challenges we had around COVID and the early mobilisation after lockdown, which have been highly appreciated. The team should accept a big, well-deserved thank you!"
A CDM 2015 dedicated work area
The first six photos show Thyson's dedicated work areas at a customer site. For this client we used their existing analyser houses to host the analytical, measurement and control systems we provide for our customer. It's a large site and so there are a number of houses, each containing Thyson's precision equipment.
The systems required upgrading, which meant we provided dedicated engineers to work on the customer site for a lengthy period of time to improve each house and the systems they contain.
Each Thyson work area at each house has mobile workbenches and small component stores cabinets, and each one is separated from the main site by barriers so that our people have their own fabrication/work area. It also shows the work area controls are within the Construction Design and Management Regulations (CDM) 2015 operating within the customer's COMAH Tier 1 chemical plant.
Manual handling regulation compliance
The next two photos show delivery of Thyson sample system panels to our onsite team, who ensure that all HSE directives are complied with, at every step of our operations.
Thyson operatives move the heavy panels using Mandy, our flatbed truck with its 1T tail-lift, then transfer the panels to one of our hydraulic lifts to wheel the panels into their final location using our Manual Handling Risk Assessment protocols. Wherever Thyson works, customers are confident that all HSEQ and other compliance requirements are fully met, and in many cases, exceeded.
Installing multiple SCS cabinets to upgrade the existing system
Here, multiple SCS cabinets are mounted on the exterior of the analyser house with new cabling and tubing installed to the GCs inside the house, which includes the vent manifolds.
H&V units designed, built and tested at Thyson
Thyson designed and built heating and ventilation units, built and tested at Thyson in Ellesmere Port and installed at our client's site by our site installation team, using the ducting that was fabricated and installed between the analyser house to the client's existing vent systems.
These next photos show the completed work scopes, showing a new H&V unit and ducting installed to house and cables glanded onto the bottom of client enclosure.
New SCS panels
The Thyson on site team installed new SCS panels on the side of the analyser house, which were built at our workshops. Also visible are the instrument junction boxes mounted on end of the house with cables glanded and terminated by the site team.
For more information on Thyson's capability, contact the team at sales@thyson.com