Meet the team | Dave
July 7, 2023

Meet the team | Dave

At nZero Group, we've got fantastic people at Orbital and Thyson and we'd love you to meet them. This time it's Project Delivery Lead, Dave.

Come and meet him!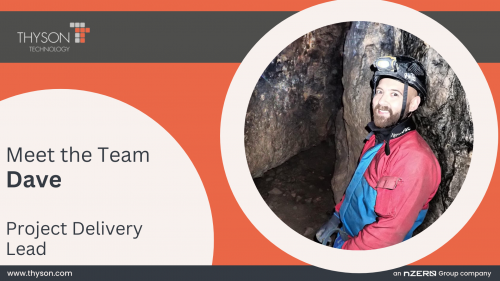 1. Who are you and what do you do for the business? How long have you worked here?
I've been with Thyson for six years, firstly helping with the business Manpower requirements which covered internal recruitment and any contingency labour needed on site. I quickly started to manage and take responsibility for small installation and commissioning scopes, then I moved into the engineering function about five years ago to work as a Project Manager and I've delivered a good a number of projects over the past five years. My current role is Project Delivery Lead which involves managing my own projects but supporting other Project Managers and Project Coordinators to deliver theirs as well. As Project Delivery Lead, I am more heavily involved in operational decisions concerning our Engineering Department and our Manufacturing Technology Centre.
I also have a secondary job at Thyson managing a team of Field Service Engineers for gas detection works. We install, commission and service systems that measure and monitor gas at wastewater treatment works, all sorts of places, car plants, energy from waste plants, sewage treatment works, anywhere there might be gas present and gas detection is required, we offer a solution.
2. Why do you think your role in what Thyson – and the nZero Group does – process engineering and the solutions they provide – is so important?
Our customers need us to provide measurement solutions. Everything is so heavily regulated, in order to do things safely and efficiently, and we're here to support that. We provide solutions that enable our customers to measure their gas and liquids accurately and reliably. A lot of the projects we're doing now tend to involve schemes where customers are looking to reduce their carbon footprint. Take biomethane, it's green gas, and it's usually creating energy from waste. Ultimately the customer is taking waste that wouldn't have been used otherwise and would have been discarded, and through a chemical process, is producing healthier green gas, biomethane. We help them achieve the correct calorific value (cv) so that it can be injected into the grid.
We're also heavily involved in different hydrogen projects. Hydeploy was my first full project for Thyson and it was the first UK trial for blending hydrogen into the gas network. We built a GEU (Grid Entry Unit) that could effectively measure hydrogen and natural gas coming in, mix both together and then import that mixed gas to a network whilst still being able to accurately measure the blend percentage. At that time the safety case was for 20% blend and we built a system that could detect the smallest spike in hydrogen very quickly and shut-off the valve (sending the gas to a reject line) to ensure no mixed gas with above 20% hydrogen content would ever go into the network.
There's projects now looking at the possibility of 100% hydrogen flowing through the gas pipes and we're involved supporting our customers to be able to measure their hydrogen accurately before it goes to grid. We're also involved in hydrogen for transport, refuelling large trucks. We're currently looking at hydrogen for jet fuel too, so we're covering all bases for transport. While electric vehicles (EVs) are relatively easy to charge, there's not enough infrastructure yet to allow people to charge at the moment they want to. EVs' viability long term is going to be challenging if the infrastructure is not there. It's why hydrogen alternatives are also receiving investment and focus.
Carbon capture is also now a massive discussion topic and we're involved in helping our customers measure CO2 and either sell that back to industry or store it safely and prevent it going straight to atmosphere.
3. What do you enjoy about the job?
The best thing about the job is the people I get to work with on a day-to-day basis. I work with a wide range of people in lots of different roles, different ages, backgrounds and personalities. I've typically always worked in an office environment but because of the MTC and site works, I've gained lots of exposure working with trades (Electricians and Pipefitters) and have subsequently picked up a lot of useful knowledge and skills. The customer element is also enjoyable, decarbonisation is a big thing for me and I do really enjoy getting involved in projects that are going to have a positive impact on the planet, it's a big part of my motivation working here.
4. What are the next challenges you're looking forward to?
There's a skill shortage within engineering at the moment and it's going to require experienced people to bring on the next generation of young engineering talent, like Jack and Eleanor, they're going to need guidance and mentoring to be the engineers that we feel they can be and we need. I am actively involved in recruitment for the business and I enjoy the challenges that brings, finding the right people that fit our core values and show great potential for being talented and progressive engineers.
5. Why are Thyson's values important to you?
Mostly the view that we're part of a net zero drive for 2050 and we have to play our part in that. We're challenged to do things better, constantly push boundaries, providing the most innovative solutions for customers so they can then reduce their carbon footprint.
6. What would you like to see happen in the future for you?
That's a difficult one. I see myself as being part of the senior management team here at Thyson and having more involvement in the overseeing decisions. Currently I am heavily involved in making decisions at ground level, which I enjoy but long term I'd like to be involved in strategic decision-making, particularly over which areas we focus our business in and with Customers who share our ethics and values.