A day in the life of a… service and spares manager
March 26, 2015
Name: Doug Bedford
Role: Service and Spares Manager
Division: Service
How long have you been with Thyson? 11 years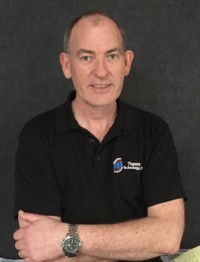 Tell us a little bit about what you do at Thyson?
I'm responsible for managing our team of service engineers and growing our department by securing new clients and order contracts. I also assist with the coordination of maintenance work and provide technical support. I can be on the road quite a lot meeting with clients.
Give us an idea of what a typical day for you as a service and spares manager would be like?
I start by making sure all our engineers know their tasks for the day and resolve any last minute client queries from overnight. I then check that all service spares have been ordered for engineers and clients and ensure all invoicing is up to date.
I find it best not to plan out the day too much as I usually have to spend a couple of hours throughout the day answering clients' technical queries!
What's the most challenging project you've worked on and why?
Every project is challenging in one way or another, but coming up with a solution is what makes our work so enjoyable.
That's what we did when we were working on a Thames Water emissions upgrade a few years ago and we had to replace a system that was over 10 years old with the latest emissions technology – which isn't the easiest thing to do.
We were part of a 20-strong team that had to work together to complete the job on time and to budget – a great feeling once we achieved it!
Can you tell us about an interesting piece of equipment you've developed or used?
Emission monitoring analysers. These are complex pieces of equipment often with different gas measuring principals and often need to be able to withstand the extreme conditions of the Arctic Circle or the Sahara Desert.
What's your proudest moment working at Thyson?
Working closely with the other contractors on the Thames Water project – we did ourselves proud!
What's your advice to somebody looking into a career in engineering?
Engineering is such a broad career so my advice would be to think carefully as to which area you would like to work in, for example heavy engineering, mechanical, instrumentation or pipefitting to name a few. It can often be hard to change career paths later on, so be sure what you want to do early in your career.
Have you done much travelling in your career?
Travelling is a key part of my role so there aren't many places I haven't been to in the UK and Ireland. I've also spent a lot of time working in different European countries and even spent six months in the USA. Working in America was particularly enjoyable as I was able to bring my family with me, which not everybody is lucky enough to do when they work away.
How would you say engineering has changed since you started out?
Like most industries there are always changes and progressions. The role of service remains pretty much the same as in the past, but advances in methods of communication have allowed for quicker planning and processing of work. All service reports are now electronic as opposed to leaving clients copies on site, which has allowed for a more efficient working process too.
How do you relax in your spare time?
I don't really relax much as I'm usually busy with DIY or some project or another at home. I've just finished building a small wooden sailing boat, which has taken me six months to complete.
I do enjoy hill and long-distance walking when I get the chance.
What's your favourite television programme?
I enjoy science and factual documentaries.