A summer at Thyson
January 12, 2022
Eleanor is a Chemical and Materials Engineering student at the University of Leeds, studying for her Masters. She spent the summer of 2021 at Thyson Technology working with our engineers and project managers and this is her account of her experiences here.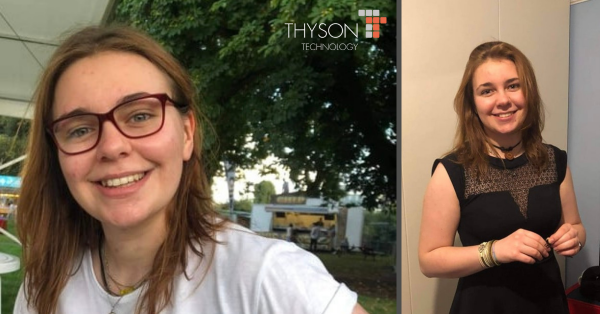 I met Neil Stuchbury, Thyson's Director of Sales & Marketing, and Matt Allen, Thyson's MD, at a virtual careers fair in Yorkshire, and decided to apply for an internship here at the end of my Year in Industry placement. Although my placement was disrupted by the pandemic, I was fortunate enough to spend much of that year at an engineering business in The Netherlands, and then I was looking for something as high calibre but closer to home for the summer. Thyson fit the bill in every respect.
I am going into my final year of my Masters in Chemical & Materials Engineering. At university, the courses all get called chemical engineering but when you start work, your job title is Process Engineering, and there are a good number of experienced process engineers here.
As I arrived at Thyson, they had just applied for a number of different Hydrogen competitions, and this is clearly a major focus for the business and for its future. I enjoyed the practical experience and being hands-on, and the culture here is very supportive. If I didn't know something, people took the time and trouble to explain what it was and how it worked and showed me how to do it so that I learned a huge amount in a very short time.
The main thing I have been working on has been a new chemical analyser house for a major customer who has commissioned Thyson to trial a number of different analyser houses to see which the best approach for them to take when they upgrade their whole network.
It's been really good here – everyone's focused on their work but as I said, everyone will help you. There are a number of different teams but lots of work is shared between teams. I have never worked on gas analysers much before and every time I've needed help, someone has provided it. I've got an notebook and it's slowly filled up with notes, drawings and diagrams as I've learnt that I can refer to. I've seen most of this stuff drawn and done in theory, but never actually seen them in real life, and it makes a lot more sense when you can see them. Here at Thyson as a process engineer, you're involved with everything. You do the designing, then you help with the building and the maintenance, so you're involved with the whole thing. If you're willing to learn, they're more than happy to help you learn it. There are also people experienced in the different areas of engineering disciplines and that combined experience is very useful.
I would love to come back here – I'm already in the Fantasy Football League! It would be a great place to come and work in a year or so's time when I graduate.
Here is what I would say to any engineering or business graduate thinking about internships or working here at Thyson
Top 5 things at Thyson
1. It's a really friendly and knowledgeable team! You've got some highly experienced people across several engineering disciplines, process, electrical, instrumentation, EIC or ENI, mechanical – mainly process, electrical, mechanical, two software engineers and lots project managers with backgrounds in engineering, oil & gas. There's a wealth of experience and always someone for everything.
2. I feel my work was really valued, and I was given responsibility but also support. An example was being part of the design reviews that the Thyson team do to check that their solution does all the things it says it does. The guys in the Technical Centre build everything anyway so we review it before it ever goes in front of a client; it means the engineers can iron out any issues very early on.
3. I've loved how much I learned – people have been teaching me basic and complex things, for example, a lot of the controls have software, which I didn't realise before and they've taught me that. I am curious and nosey and so I do ask anything and everything and they invite me to join in as well, and I have been able to do more commercial stuff so I'm be ordering things that I will need for my designs. You learn a bit of everything as well, you don't just stay in your team.
4. It's very collaborative. Project leaders use everyone's skillsets and you get to work with different people on different jobs, and the variety of the work makes every day interesting.
5. Go out and get internships, do summer placements, choose degrees with a year in industry if you can. It helps you learn what you want to do, what you don't want to do (which is equally important) and get more links to industry. By taking an industrial placement between your third and fourth years means you've got more skills to use and you can see your modules applied. I'm going into my Masters year now and I'm already looking for the job I'm after. I would love to work here next year!